Fashionista Summer Escapes is a column by our favorite Fashionistas who escape the heat of Dallas and spend a few weeks, or in some cases months, summering away from home. Here's a look at the best beds, tables and shops in Malibu, California by The Fashionistas Founder and CEO, Heidi Dillon.

Dress Code: Malibu is a very casual laid-back place. Every summer I bring way too many clothes, most of which seem over-the-top once I get here and get into the groove. This year I ended up shipping a bunch of what I brought home to Dallas and then hit the James Perse store to stock up on their comfy, cotton clothes that feel like you're wearing pajamas. I bought several skirts, a dozen of their famous t-shirts, leggings, a couple of cashmere wraps as well as some body skimming dresses. All of which I wear with flats – a huge departure from my usual skyscraper Lanvins. Keep reading.

Stay: We have been coming to Malibu for the past four years. The first two years we rented a house that was called by the listing agent the "Malibu Dream House." It is an 80's glass and steel contemporary situated on a beautiful private beach a few doors down from Cindy Crawford. We always watched in awe as she and her beautiful family took strolls down the beach. A couple of times we spotted their friend and surf legend Laird Hamilton catching a wave. One year there was an earthquake that shook the entire house. I was so confused, the maids were there cleaning and I thought that it was one of their vacuum cleaners.

The past two years we have stayed at a beautiful estate on Point Dume that overlooks Zuma Westward Beach. This spectacular estate has a large Mediterranean main house, two guesthouses, a pool and hot tub. J Lo owns a house a couple of doors down, but we have never seen any signs of life at her home.
Everyone either owns or rents in Malibu. There is only one hotel, the Malibu Beach Inn, which is fairly expensive. I've never been there, but I think it was remodeled recently. It's right on the beach, so how bad can it be?

Love: What I love most about Malibu is the ocean. We spend two months here and by the time I leave I feel ten years younger. There is something about the sound of the waves, the full moon setting on the water, the sound of children playing at the beach that is more relaxing than the best bottle of champagne. The weather isn't bad either. Most days are 69-72 degrees and sunny.

Must Do's: I do have one problem with Malibu – Crumbs Bakeshop. I'm absolutely addicted to their cupcakes. It's becoming a real problem that my trainer will have to deal with when I get home. I'm trying to limit myself to one a week. Dallas takes surfing lessons with local legend Joel Shultz. He usually surfs Zuma Beach but he is getting a little more advanced so we are beginning to branch out to more challenging beaches. I think Dallas was born to surf. He has the look and the moves and is one of the few people who looks good in a wet suit. Our dog Ralph loves it here as well. He enjoys spending the day outside running up and down the yard playing with his toys. His favorite place to sleep is on our balcony. Dogs are not allowed on Zuma, but sometimes I take him down early in the morning and we play until someone tells us to leave. I named Ralph after the local grocery store called Ralph's Fresh Fare.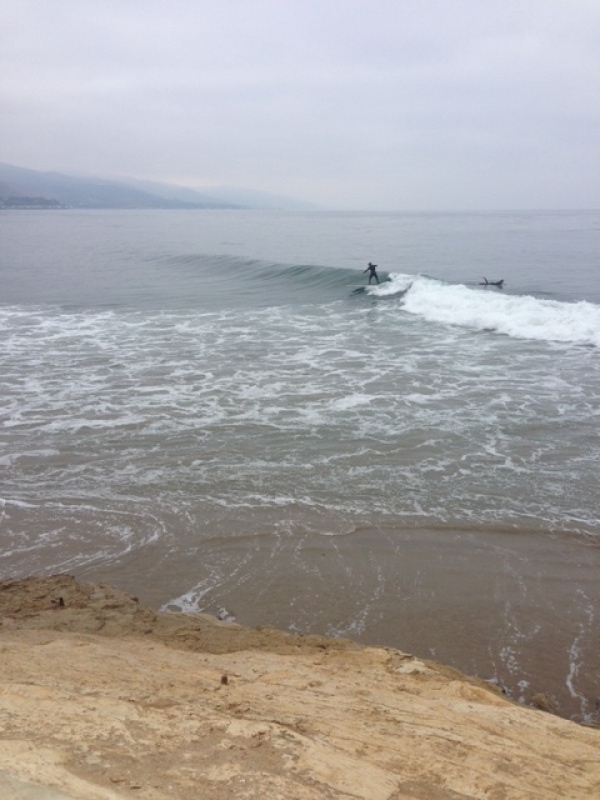 Dallas Dillon and Surf Instructor Joel Shultz

Shop: I am totally addicted to James Perse. I think that I am their number one customer this summer. I also enjoy picking up cute accessories at Kitson. There is a small Maxfield's here, which is also a problem for me. These stores are located in a very chic new area called the Lumber Yard. That's where Crumbs is too. Randy Gerber, Cindy Crawford's husband, just opened a new restaurant called Cafe Habana. The service is horrible but the food, people watching and atmosphere are good.

Dining: We really love going out to eat in Malibu. A new restaurant just opened at Point Dume called Savory. The food is excellent and I think that it would be considered a good restaurant anywhere. Our favorite place is Tra de Noi, an Italian place where the food and crowd are always great. Nobu Malibu has a fabulous local scene. There are always a slew of paparazzi outside waiting to snap a picture of some celebrity. I like to stop and chat with them to see what they are up to. I've gotten some pretty good scoop over the years. We like to do Sunday brunch at Geoffrey's. It's an outdoor restaurant overlooking the ocean. Dinner is nice there too, very romantic. Dallas' favorite place to eat is Paradise Cove. It's right on the beach, always packed and serves the biggest glass of Coke I've ever seen. The waiter told us that's so they don't have to work so hard. There's a place on the PCH called Malibu Seafood where you can get the freshest, best seafood I have ever tasted cooked to eat there or to take home and cook. Honestly, the fish at this place blows my mind.

Extras: While summer here is primarily a time for us to spend together as a family, we do invite a select group of friends to come visit. We take them to all of our favorite places and treat them like they are part of our family. I'm worthless in the kitchen so when we don't want to go out to dinner, we have our friend and amazing chef Kris McKay come cook for us. Her food is so incredible and she is a delight to have around. After dinner, whether we go out or stay home, we end the evening by playing poker or dancing. Dallas has a really great play list and we get our party on.

Several times a week you can find me at Veronica's Skin Care. I get Endermologie, a cellulite treatment, from a fascinating man who everyone calls Malibu Ken. He is friends with all of the local celebrities, all of whom are cellulite free of course. He has a lot of good stories. Denise, an adorable girl at Veronica's, keeps my skin in shape with bi-weekly microdermabrasians as well as oxygen facials.
Malibu is a very special place where my family and I have time to enjoy one another, relax and spend time with friends.